Juice and Java Express
was started as an inspiration with a dual purpose.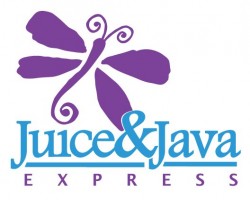 We believe that adults and children deserve to experience the taste and goodness that fresh fruits and vegetables deliver.
The first purpose of Juice and Java is to serve live, organic food in a delicious and quick manner.  We want folks to come by and grab a healthy drink and snack while on the move.
Juice and Java Express will juice fresh fruits and vegetables in great tasting combinations or just as a single juice.  In addition, we can fuse the juice with fruit, tea, coconut water, and a variety of milks to make a smoothie rich in flavor and vitamins.  Pick from our menu or discover your own favorite blend.
The Java that we serve is organic and fair trade.  We serve coffee, teas and blended coffee drinks.  Yes, we will have goodies, both baked with regular flour and gluten free.
Each morning Juice and Java will have a fresh, steaming pot of oatmeal waiting for you.  Stop by, get a cup of oatmeal to go and add your favorite toppings from our oatmeal bar.  What a nutritional, delicious way to start your day.
While you are asleep, Juice and Java will be busy preparing your favorite salads and sandwiches for our cold case.  When you stop by for your coffee and oatmeal you can also grab lunch!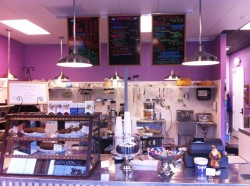 Juice and Java Express' second purpose is to eventually share our success by franchising our business model with people who are ready to be in charge of their own income stream.
A Juice and Java franchise owner will benefit from our experience during all the phases of the business.  This will encompass the search for the right location, the negotiation of the lease, the choice of a contractor, choosing equipment, products and operational support.
Please call or send us an email if you have an interest in our duel renaissance of health and business.  We can discuss the possibilities and perhaps add you to our list.
Come by and visit us at 55 W Angela, in the heart of Downtown Pleasanton.  We can't wait to meet you.